Burson Playmate 2
The all new Burson Playmate 2 was introduced beginning of February of this year. A compelling all-in-one Class A headphone amplifier (3,5 watts) and pre-amp with a great USB-DAC made with a SABRE32/ ESS9038Q2M DAC. You can throw all your high-res material up to DSD512 and 32/786khz PCM at it and enjoy it to its fullest. A small machine, with great power keeping the temperature low due to Burson's proprietary 'Cool Case'. More about this in the Burson Youtube video.
Headfonia Review – 5 Stars
Headfonia is always on top of new interesting components to review that are just released. The Playmate 2 is one of those that just ticks a lot of boxes. During the unboxing Matty Graham already notices the cool case and chassis:
"The finned chassis of the Playmate 2, like its older brethren, is extremely striking in the flesh and it not only looks but feels terrific. Milled out of solid aluminium, this feels like one solidly built piece of gear and it hands-down takes the prize as the best-looking piece of desktop gear under a grand"
After the technical details the most important part is the impression of the audio quality, using Grado GH1, Dan Clark Audio Aeon 2 Noire and Sennheiser HD600 for the auditions and pairings.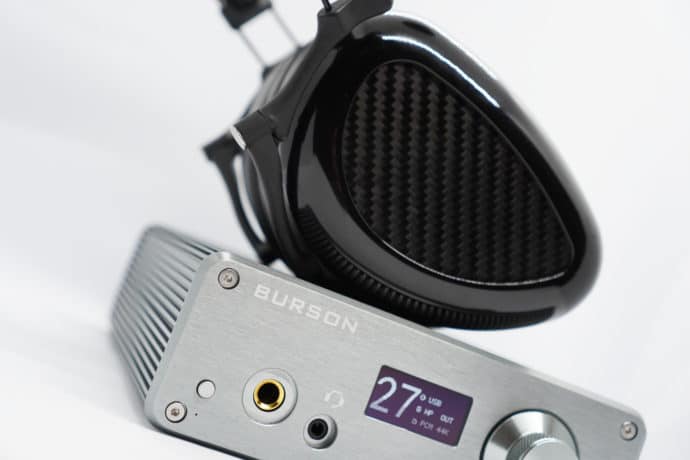 "The Playmate 2 gives a beautifully detailed performance that is nuanced, revealing and yet with just enough hint of Class-A lushness to imparts a nice sense of immersion into your music collection" 
The Playmate 2 operates in a price class with not a lot of competition. Headfonia compares the unit with Topping A90. Slightly cheaper, but also an analogue headphone amplifier, where as the Burson Playmate 2 is a USB digital only device. Matty ends this glorious 5 star review with his final thoughts:
"If you like a richer, warmer sound signature and plan on listening via digital sources, then the Playmate 2 is a strong recommendation for a device that you'll want to have pride of place on your desktop long into the future"
Pricing/ Dealers
Burson Audio Playmate 2 MSRP €799 incl. VAT