Introduction Hifi Rose RA180 amplifier
Citech Co. Ltd., the manufacturer of the Hifi Rose products, is primarily known for their outstanding streaming capabilities. Now they will raise the bar with the new unique Hifi Rose RA180 stereo integrated amplifier. This amplifier comes loaded with new Class D techology, bi-wiring features, MM/ MC phono pre-amplifier and more. Below we will go further into all the items that makes this amplifier truly stand out.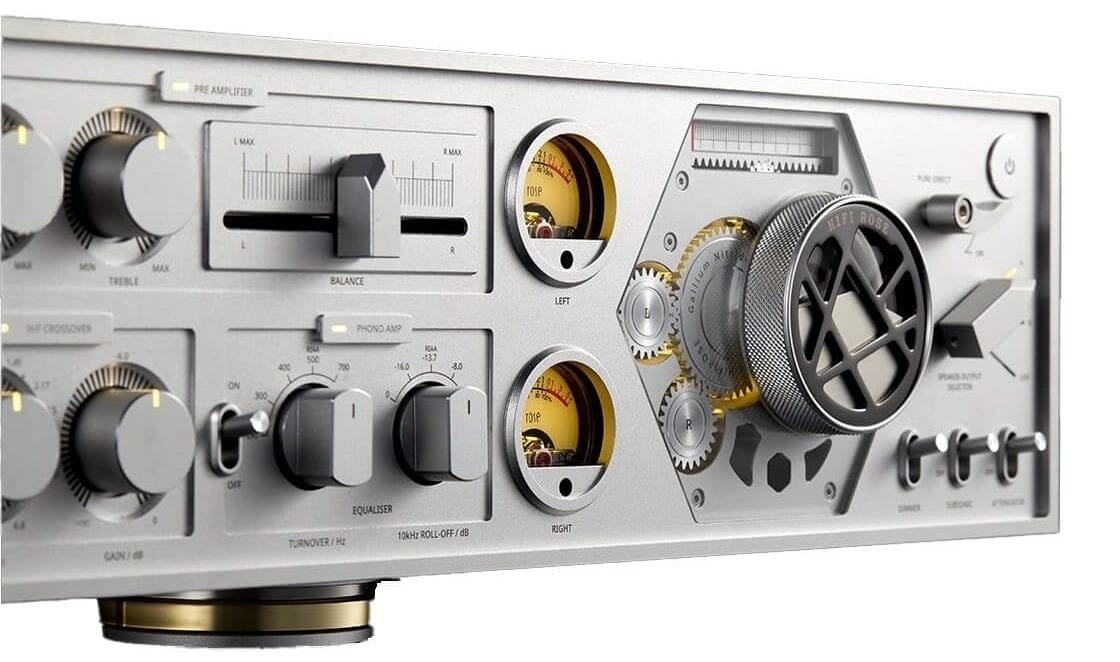 Specifications
Inputs
The new HiFi Rose RA180 has three unbalanced RCA inputs, plus a balanced  XLR input. For the integration of a subwoofer, a corresponding pre-out is available, whereby all relevant parameters can be flexibly adjusted directly on the front. The RA180 has, for vinyl lovers, an integrated phono preamplifier for MM and MC cartridges. The selection for MM or MC is available with a toggle switch at the back and further fine-tuning including a subsonic filter is available at the front of the amplifier.
Power
This new amplifier from Hifi Rose uses four amplification modules with Class D technology in one chassis. The specific technology that is used with in the amplifier is based on GaN FET, i.e. field-effect transistors that do not rely on silicon but rather on gallium nitride as a basis. The higher effective power available in this amplifier waste less heat and therefor allows for a much more densely packed construction of circuits. Class D GaN FET amplification is more accurate, faster and more precise in signal processing.
The RA180 can be used in bridge mode where not less than 800 watt is available for speaker systems with 4 or 8 ohms impedance. This amplifier can also be used in bi-amping mode, where the four amplifier modules can be used separately  even in combination with the integrated crossover technology, also available in this amplifier. RA180 supports high freq. speaker output and has an active crossover function that sets high frequency output when using a super tweeter. It is adjusted from a minimum of 600Hz to a maximum of 6kHz and outputs from the set frequency to 100kHz.
Bass, Treble Balance control
RA180 has a basic output tendency of FLAT and is equipped with a tone control, allowing maximum and maximum +/- 15 dB adjustment of Bass (100 Hz) and Treble (10 KHz), respectively. The tone control circuit is equipped with a high fidelity active (OP-AMP type: 12dB slope) EQ instead of a passive (CR type) with a gentle slope of 6dB.
High-efficiency power supply
The power supply circuit developed exclusively for RA180 is suitable for power supply without using Silicon FET. Silicon Carbide FET (High Voltage, High Heat Resistance) technology is applied to provide high output with high efficiency and low heat generation. In addition, it responds to a rapid load by applying a self-designed 2.5kW class PFC circuit and a large-capacity capacitor. In terms of figures, it has a damping factor of 200 or more and a high-output power supply of 1,000W
Convenient remote control function
The dedicated remote control allows you to adjust the remote-motorized analog main volume and input selector. It is convenient to use by controlling the input selector in a sophisticated control method.In addition, the LED display of the input selector automatically detects the input signal as it is saturated and notifies it by blinking.
Dimensions & Weight
The new HiFi Rose RA180 measures 430 mm in width, 350 mm in depth and 110 mm in height, exactly matches the streaming systems from Citech Co Ltd. and weighs in at 16.7 kg.