Hifi Rose RS250A Network Player
Hifi Rose just announced the update for the RS250 network player. The new Hifi Rose RS250A will be available mid-december in black or silver with an MSRP of €2599.
This network player does not really need a new introduction. The large HD touchsreen display with the Rose OS user interface is a streamer that just simply goes beyond audio.
New Features
– Upgraded DAC to ESS9028 PRO
– Upgraded Oscilator to Femto 100mhz Ultra Low Phase Noise OSC
– Upgraded Opamps to 10x Hifi Rose Discrete Single Opamp
– Upgraded L/R Power ES9311Q dedicated chip
– Upgraded Clock Generator to OSC 49.152 MHz, 45.1584 MHz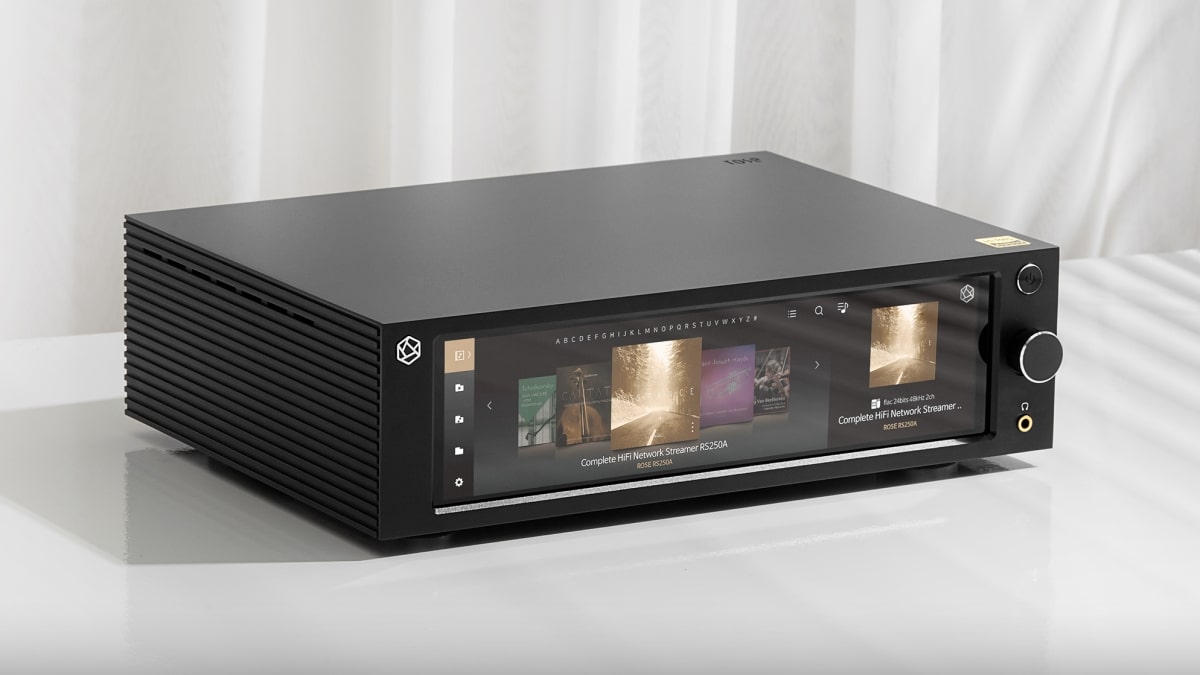 DAC
The RS250A uses a new DAC from ESSlabs, the ESS9028 Pro and clock with proprietary processing that offers a low-noise, low-distortion, high-resolution sound with a natural flow and analog-like texture. Sampling rates for PCM are available up to 32bit/768KHz and native DSD512 (22.5792Mhz). There is a selection of 5 filters available to tailor the sound to your specific preference when using the internal streamer. The USB input is limited to just one filter however, however oversampling can be implemented if desired.
Linear Power Supply
A low-noise toroidal linear power supply has been fitted in the Hifi Rose RS250A for a greater audio performance in terms of resolution, stability and dynamics. A linear toroidal power supply is not very common for network players at this price point from competitors.
Connectivity Options
– Ethernet port
– HDMI video output with up to 4K resolution
– Digital inputs: Toslink optical, Coaxial, USB 3.0 audio input for connecting an external drive
– Analog input: Stereo RCA unbalanced line in
– Digital outputs: Toslink optical, Coaxial, USB 3.0 audio output
– Analog outputs: Stereo RCA unbalanced preamp out, 3.5mm headphone jack
– Storage Interface
– USB 3.0
– Enclosed bay for optional 7mm SSD up to 4TB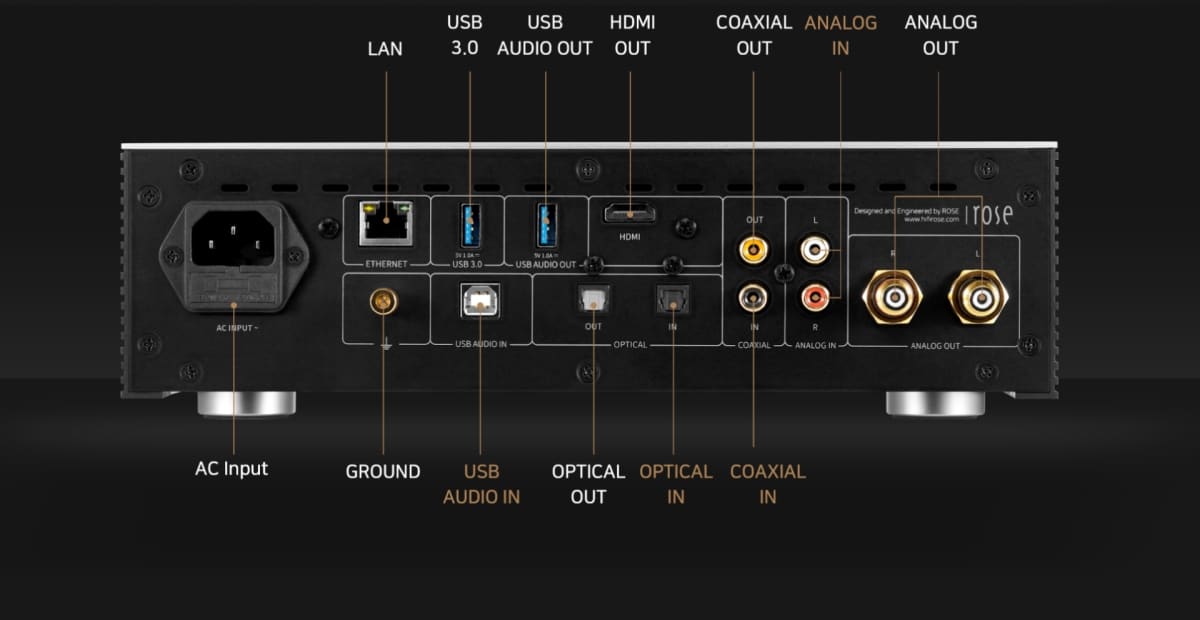 Product Overview
– Solid aluminum panel chassis
– 8.8-inch-wide HD touchscreen display
– Dual-band Wi-Fi 5 (802.11ac) capability
– Control with touchscreen, Rose Connect app for Apple® and Android™ devices, or included Bluetooth remote
– Front-panel volume control/mute knob
– Hexa-core CPU: Dual-core Cortex-A72 CPU up to 1.8 GHz, Quad-core Cortex-A53 up to 1.4 GHz
– Support for Apple AirPlay, DLNA, Roon, and MQA (full decoder)
– Support for TIDAL, Spotify, Qobuz, RoseTube (YouTube), internet radio stations, and RosePodcast
– Supported audio formats include MQA, WAV, FLAC, AIFF, WMA, MP3, OGG, M4A and more
– PCM decoding up to 32-bit/768kHz
– Native DSD decoding up to DSD512 (22.4MHz)
– Supported video formats include ASF, AVI, MKV, MP4, WMV, MPEG-1, MPEG-2, MPEG-4, and more up to 4K resolution
Pricing & Dealers
Hifi Rose RS250A MSRP €2599