Audiobyte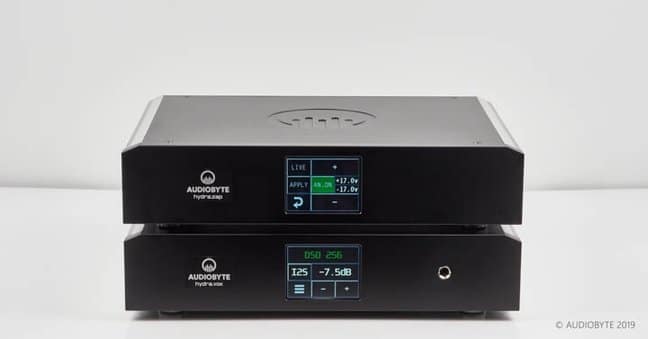 There are a lot of DAC's in the Hi-Fi market already, some of them well-known, others operate in the background. Audiobyte is a subsidiary from Rockna and both belong to the latter category. However Rockna has done much work and many designs for well-known companies as PS Audio, MSB Technologies, Wadia, Jadis and Goldmund.
The VOX is a unique D/A converter with a headphone amplifier and external power supply. Its entire architecture is built from the scratch using Audiobyte proprietary technologies. The architecture of the VOX is pure 1 bit. All incoming sample rates are converted inside to a sample rate equivalent to DSD256/512 (firmware dependent), after which analog conversion is done using current segment technology. The Hydra stack might be looked at as a headphone amplifier with DAC, but it is so much more as the D/A converter is the heart of this component and as top notch as you would expect from Audiobyte/ Rockna.
Audiobyte Hydra.Vox DAC and ZAP Hifi+ Review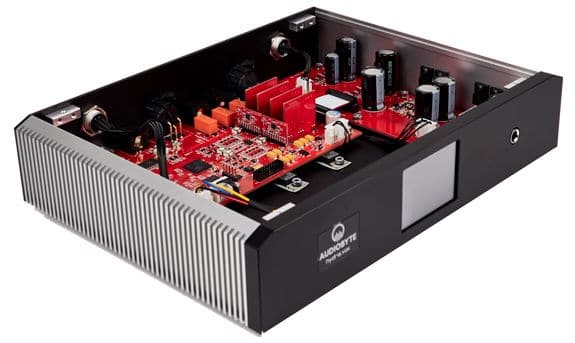 Alan Sircom from Hifi+ recently reviewed this new D/A converter with external power supply from Audiobyte. Getting in the nitty gritty on all things technical. The Hydra stack is one of the few DAC's that is equipped with I2s protocol via HDMI. I2S rips out several stages between codec and ear and is the preferred connection if you have the transport to connect it with.
"In fact, it was in a conventional audio context that they really show what they are capable of, and as a first-rate DAC, they are in the top tier. The sound can perhaps best be summed up as 'organic' and 'fluid'. It's a very dynamic and detailed presentation but that coherence across the frequency range is what first jumps out at you"
Next to the technical and background of Audiobyte, the Hydra.Vox DAC and ZAP are subjected to a thorough listening test. Alan's final conclusion is not an understatement:
"On their own, the Audiobyte Hydra.VOX and Hydra.ZAP make a cogent, refined and detailed sounding DAC that doesn't do that hashy-shouty impressiveness that often passes for 'high-end digital'… and I suspect that 'best digital audio company you've never heard of' title goes away very fast when the two-box Hydra is joined by the Hydra.HUB….. If you have a device with I2S output, this is a must-hear option" 
Please read the complete review of the Audiobyte Hydra.Vox DAC and ZAP on the Hifi+ website.
Pricing/ Dealers
Audiobyte Hydra.VOX and Hydra.ZAP MSRP €4.199 incl. VAT