Dan Clark Audio Ether 2
ETHER 2 system is the flagship planar-magnetic open-backed headphone from Dan Clark Audio. Three different ear pads are included, allowing the sound and fit to be customized, as each pad offers a unique sonic signatures. Every Dan Clark Audio planar magnetic headphone is powered by a 100% proprietary driver. The Ether 2 diaphragm  is a 71mm x 45mm single-ended planar magnetic in a carbon fibre baffle, with second-generation Trueflow technology that improves airflow. Ether 2 weighs just 290g, making it one of the lightest full-size planar-magnetic headphone designs on the market.
Hi-Fi Choice Review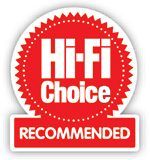 Hi-Fi Choice reviewed the Ether 2 beginning of 2021 and awarded this headphone with a Recommended Award.  Praise is given to the quality of the skeleton like headband and design, to keep the weight of the headphone as low as possible. An aspect that is often overseen, but comfort is an important aspect of the listening experience.
"Thanks in part to the lightness and comfort of the Ether 2, the headphone seems to dissolve away to allow me to simply enjoy the music" 
Much of the music in this review is classical using a valve headphone amplifier,  but the reviewers does not shy away from jazz and some Pink Floyd. Read the review of the DCA Ether 2 on the website of Hi-Fi Choice or in the December 2020 issue of the magazine.
"Staying with the baroque theme, Vivaldi's Concerto No.7 performed by I Musici enables the Ether 2 to showcase the refined performance to impressive effect with the clarity and presence of Heinz Holliger's solo oboe playing entirely intact throughout" 
Pricing/ Dealers
Dan Clark Audio Ether 2 System MSRP €2449 incl. VAT