Final A8000
The flagship IEM from Final Audio, the Final A8000, is a single dynamic driver. Merging tried and tested knowledge and technologies, the A8000 benefits from Final's subjective stance of creating the best possible audio. Armed with a special single dynamic driver, using a diaphragm made from ultra-thin Beryllium foil, inserted in a precision-machined stainless steel chassis. The adoption of pure Beryllium leads to improved time response that greatly creates timing, while the sharpness of sound build-up and the lingering resonance of the sound can clearly be felt.
Final A8000 About Audio Review
Aboutaudio.org starts this review of the Final Audio A8000 with some background on the earlier IEM designs that were created. Final has been designing earphones for over a decade now and since they have full control over design and manufacturing process, some interesting solutions can be presented as well. With the A8000 a simple tool is delivered as a new accessory to detach/attach an earphone cable with MMCX connection.
The A8000 has been derived from the flagship full-size D8000 headphone, since many parts of the inner components and structures have been inspired by their D8000 headphones. Final Audio is just one of two manufacturers that used pure beryllium in the diaphragm of the driver.  All the technical details are perfectly explained in this review. The more important part of the review is the sound impression:
"I had no doubt about its bass performance thanks to its pure-beryllium diaphragm, yet A8000 still amazes me. Lows dive deep all the way towards the ultra-low and with quality. The textures are what I especially love from A8000 as the insides are smooth, meaty, and moist while the outsides are crispy and bitey" …….."I still have to bring up that "crispiness" topic once again – because highs are the ultimate part where A8000's crispiness blooms" 
The A8000 is compared to the Dunu Luna, which is the other manufacturer that uses beryllium in the driver. Next to the Dunu Luna the Dita Audio Dream XLS is pulled into the equation, as these are all single dynamic driver earphones.  An amazing review, which gives plenty of insights, great photos and a superb score of 9.6 (out of 10) for this IEM. Please read the full review on aboutaudio.org website, while we leave you with their final verdict: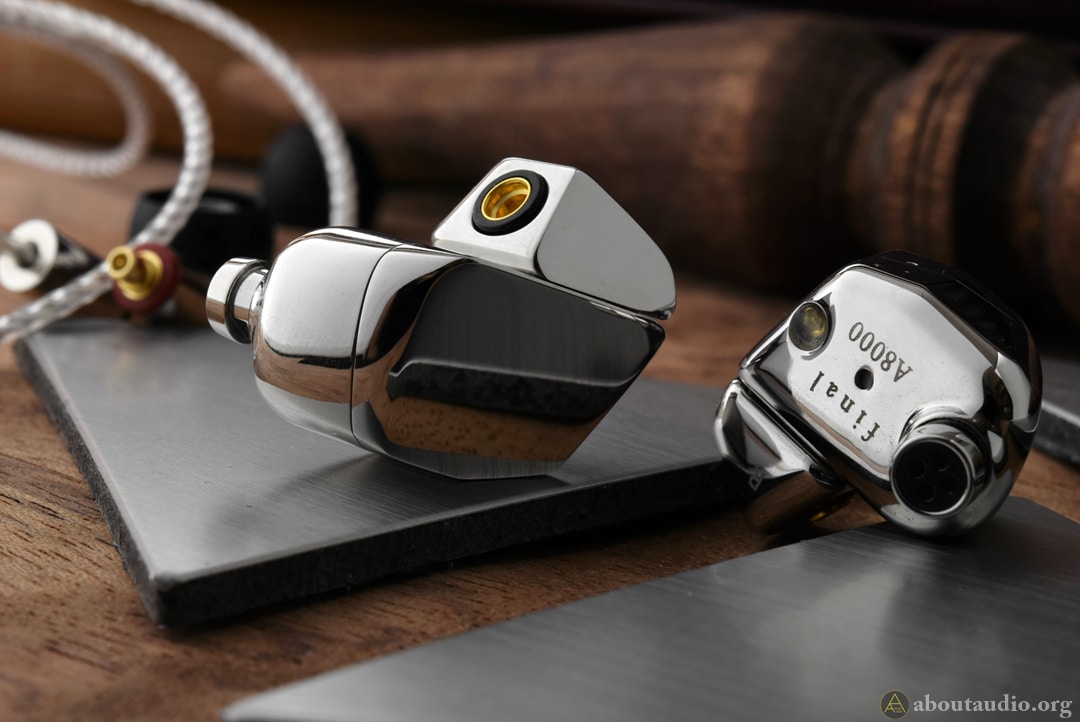 "A8000 blows a solid punch in the face with its Beryllium-powered reaction speed, as its sound and the performance backs up the point that not only dynamic drivers could achieve extreme performance for the lower end but also for the upper ends and on many other fields" 
Pricing/ Dealers
Final A8000 IEM MSRP €1.999 (incl. 21% VAT)