Introduction Final ZE8000 Premium True Wireless Earphones
Final has announced the launch of their new flagship ZE8000 true wireless earphones, a culmination of their innovation, R&D, creativity and engineering capabilities that have been refined and explored over the years. Following the path of the flagship D8000 and A8000, Final has developed new technologies to push the boundaries of wireless portable audio even further than before.
For the ZE8000, Final has developed their new "f-CORE for 8K Sound" ultra-low distortion driver with a large 13 mm diaphragm. This driver is extremely lightweight, using an aluminium-magnesium dome injection molded onto a highly flexible silicone surround, with a floating mechanism used for the voice coils. The impressively low total harmonic distortion (THD) from this driver is unique among other true wireless earphone models, providing the highest precision in digital signal processing results and allowing the fullest display of sound textures and details.
Amplification
Class-AB amplifiers provide a superior balance of sound quality and power efficiency, with many true wireless earphones using inferior Class-D amplifier technology. Paired with Polymer Multilayer Capacitors designed by Rubicon for digital signal processing, to complete Final's '8K Sound' picture.
Active Noise Cancelling
The Final ZE8000 has an impressive amount of features, of which some were never available until now. In order for music quality to always be the focus of the ZE8000, final has developed their sound quality prioritized Active Noise Cancelling (ANC). This ANC does not degrade the audio in any way, and the low-noise helps to create a quiet environment for listening; removing irritating ambient noise and enabling a stress-free listening experience.
There are four listening modes available for the ZE8000, all of which have their own benefits and clear intended scenarios for the user:
– Noise Cancelling Mode – Eliminates ambient noise and allows users to concentrate on the music
– Wind-Cut Mode – Significantly eliminates wind noise captured by the microphones when there is a lot of ambient air movement
– Ambient Sound Mode – Seamlessly blends music and ambient sound, allowing users to be aware of their surroundings while listening to music
– Voice Through Mode – Ambient sound is prioritized over music, allowing for clear conversations without removing the earphones from the ears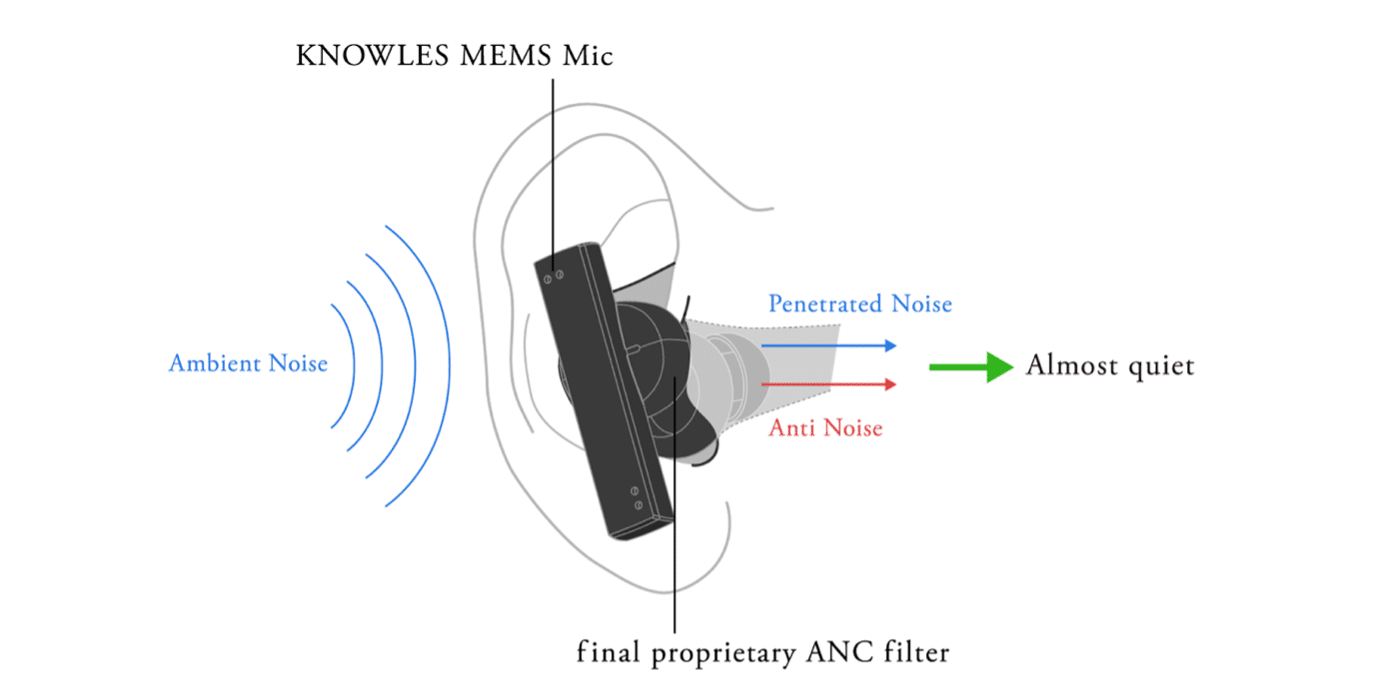 Final Connect app
The "final Connect" app provides the following functions unique to the ZE8000, opened up in addition to basic functions such as checking the battery level of the earphones:
– Switch between 4 modes: Noise Cancelling, Wind-Cut, Ambient Sound, and Voice Through.
– PRO Equalizer allows users to make adjustments onto the sound presentation in the most effective way without causing degradation of sound quality
– Setting up the Volume Step Optimizer to upgrade the smartphone's volume control, allowing for finer volume adjustment near the preferred volume with greater precision.
– Switching the voice guidance language (Japanese/English)
– Activating 8K SOUND+
– Easily install firmware updates when available
Volume Step Optimizer
Unique to the ZE8000 is this feature, which allows users to fine tune their listening volume, transforming the smartphone's standard volume control to offer a finer volume adjustment at higher precision around the users reference level. This is easily customized using the final Connect app, and can be enabled or disabled to taste. In addition to SBC and AAC codecs, the ZE8000 supports the uninterrupted, high-quality Qualcomm aptX and aptX Adaptive codecs for wireless transmission up to 24-bit/96 kHz.
Design – Carry case
Final has taken much effort to design the ZE8000 for comfort and stability. Special attention has been given to the design of the ear tips to  suit all ear shapes and sizes. A number of eartips sizes are standard provided with the purchase of this TWS earphone. These TYPE Q Duplex eartips are dual-layered, and ZE8000 stays fit into the concha by mainly utilizing the interlocking mechanism contributed by the round-shaped division and the ear concha. The part that lies inside the ear canal has been designed to be softer, providing a comfortable fitting with a soft touch. Additionally, different from most typical TWS systems, where the hard surface of the housing is directly in contact with the ears, the TYPE Q eartips offer a soft silicone contact surface for supreme comfort.
The carry case is equally stylish with USB-C charging and a battery charging indicator clearly visible. With the ZE8000, Final has shown that high-end, hi-fi audio quality is possible from a wireless earphone; and this flagship is the first step towards realizing the full potential of portable audio.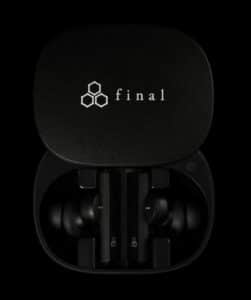 Specifications
Color: Black / White Shibo finish
Communication Format: Bluetooth 5.2
Chipset: Qualcomm QCC5141
Frequency Response: 20 Hz – 44 kHz
Codec Supported: SBC, AAC, Qualcomm aptX, aptX Adaptive
Profiles Supported: A2DP, AVRCP, HSP, HFP
Continuous Music Playback: 5 hours, Up to 15 hours with charging case
Charging Time: 1.5 hours for earbuds / 2 hours for charging case
Battery Capacity: 54 mAh for earbuds / 420 mAh for charging case
Water Resistant: IPX4
Pricing & Dealers
Final ZE8000 True Wireless Bluetooth Earphones MSRP €329