Introducing Shanling EM7 Streamer DAC Amplifier
The EM7 is the flagship desktop all-in-one Streamer and DAC/AMP from Shanling. Under the hood we find Sabre's ES9038Pro 8-channel 32-Bit DAC and the in-house developed OP+BUF analog amplifier architecture that produces a whooping 7W of clean output power at 32Ω of load. The EM7 is a completely balanced design based on this flagship Sabre chipset. The Shanling EM7 has a customized Android 10 OS on installed which allows you access to multiple streaming applications.
The EM7 houses multiple headphone outputs with 3.5mm and 6.35 mm single ended outputs and 4.4mm and 4-pin XLR balanced outputs and offers a maximum 7W at 32Ω. It can easily drive most headphones on the market, but also has a low output impedance, making it suitable for sensitive IEM's and headphones too. This flagship streamer, DAC and amplifier is not just for headphones, but can also be used as a pre-amplifier for your hifi setup, with smooth switching between your headphones and stereo setup. It has multiple digital inputs (coaxial, toslink and USB) and you can even use it as a source for your Bluetooth headphones or speakers.
Android 10 OS

On the Streamer side, EM7 is running our closed and customized system, now build upon Android 10. Giving you access to a range of streaming services, local playback from MicroSD card or USB drives, DLNA, Airplay, NAS and even simple Bluetooth streaming. All run through our Android Global Lossless Output (AGLO) system, assuring the ideal audio performance from Android system. EM7 also switches to a faster Qualcomm Snapdragon 665 CPU, making for a significantly swifter system.
5.8" Full HD Tiltable Display
The Shanling EM7 has a big 5.8" full HD tiltable display on top of the housing, with a resolution of 1920x 1080, it delivers a crisp and easy to use touch screen.  Users can easily adjust the angle of the screen to get a clear view.
Features
Upgraded to Snapdragon 665 CPU for smoother system performance
Closed Android system with access to streaming apps, based on Android 10
5.8-inch tiltable touch screen for easy control
Flagship ESS ES9038Pro DAC
Most powerful Shanling amplifier, up to 7W@32Ohm // 1W@300Ohm
4 headphone outputs (3.5 / 6.35 / 4.4 / XLR)
Compatible with Eddict Player app controls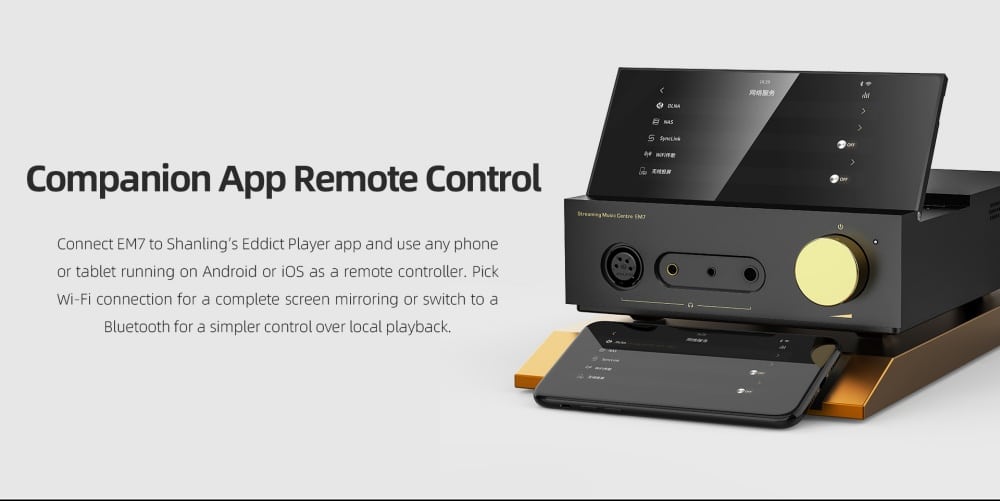 Pricing & Dealers
Shanling EM7 Black MSRP €2199