Enleum AMP-23R
In 2021 Enleum was introduced as a new brand and the AMP-23R was born. However when you look closer, the name might be new, but the driving force behind it was manufacturing audio products with great egards under the name Bakoon International. Enleum's unique design of the AMP-23R was immediately awarded with a Red Dot Award: Product Design 2021. The amp uses the newly developed Ensence Circuit. A completely new and advanced PCB artwork, with zero-negative feedback wide bandwith design, push-pull class AB integrated amplifier.
Do not be fooled by the 6.35mm connection on this amplifier. The AMP-23R has tremendous capabilities in terms of power handling for the most difficult planar headphones, such as the HiFiMAN Susvara. The hifi Community has again embraced the profound quality of the Enleum AMP-23R and has been already reviewed by various magazines and leading hifi review websites. We have bundled and summarized the latest reviews.
HiFi+ Review Enleum AMP-23R
Jason Kennedy from HiFi+ reviewed the AMP-23R end of last year and describes exactly how the current industry looks at power and watts. Jason gets the minimalistic approach from Enleum and applauds the shortening of signal paths and efficiency of the amplification. During the reviewing period he has used several speakers from PMC (its flagship Fenestria and Twenty5 21) and JBL HDI-3800. The complete review is available on-line on the HiFi+ website, truly loved the way he describes the AMP-23R:
"The emphasis however is more on timing, texture and the many qualities of musical composition, this amp proved to be exceptionally good at revealing what makes a piece of music appealing….And that's a rare and valuable quality in any piece of audio gear, showing the listener just how good the music really is….. A lot of stuff makes the better recordings sound great but fails to reveal the musical beauty of less polished productions, but the Enleum gets to the heart and soul of the matter in a very convincing style." 
6Moons Review Enleum AMP-23R
Srajan from 6Moons is a true connaisseur when it comes to specialistic audio equipement. He has always been a big fan of Bakoon's AMP-13R and has also been in close communication with Soo about his new endeavors. More on this can be read in 6Moons Origin Story on Enleum. This review starts where Soo originated at Bakoon with explanations of the AMP-13R and the dedicated headphone amp HPA-21. Then in Srajan's pace we go supersonic to its introduction of Enleum. Either you love Srajan's writing or not, but I love the cheeky references that he always makes.
"Though this was really a meet of equals, given the small but consistent advances of this circuit's very latest implementation, the Enleum AMP-23R now is my new favorite low-power transistor amp for loudspeakers and HifiMan Susvara headphones alike. That this was virtually pre-ordained so boringly predictive doesn't lessen the achievement. It's not just a new name with old wine in a restyled bottle then. It's the same varietal from the same vineyard but a harvest which absorbed just a bit more sun. Team Enleum should take pride in not just having rolled out a repackaged Bakoon. Whilst that rated very high already, they managed to still squeeze more juice from a winning recipe then mature it by another year"  – Read the full review on 6Moons website.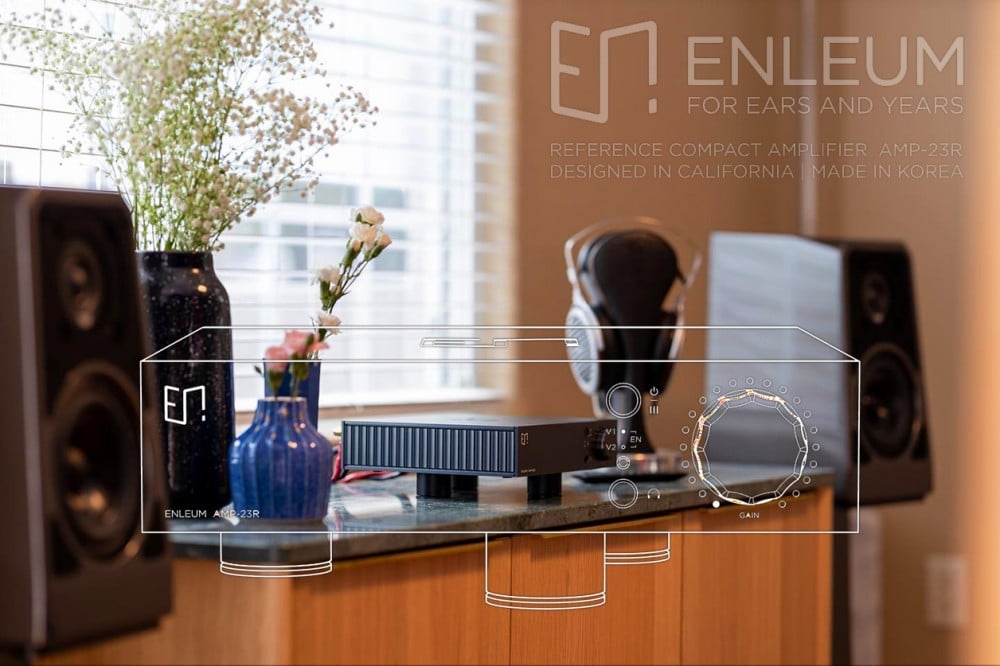 Hifi Knights Review AMP-23R
The website Hifi Knights already reviewed and awarded Bakoon's AMP-13R in 2019, so they are well familiar with Soo In Chae and his designs. The elaborate review of Enleum AMP-23R with amazing photography was als published late last year. Reviewer Dawid Grzyb takes his time to explain the designing and technical principle of the amplifier and the evolution from Bakoon to Soo's new company. A very clear and clean explanation is given for the choices Enleum made in the AMP-23R and its minimalistic approach to it. Next step in the process is of course the subjective listening and since one of Dawid references still is the Bakoon AMP-13R, he takes his time to go back and forth with different sensitive loudspeakers in the setup. Dawid uses Boenicke Audio W11 SE+ and sound|kaos Vox 3afw in his listening tests.
"To summarize, Enleum AMP-23R is as non-casual as the Bakoon was before it. Its industrial styling, petite footprint, flawless metalwork and brilliant overall execution already make that point, but I'm not aware of any other similarly voiced as accomplished hardware that sells for less than thrice its tag. Soo In's newcomer easily pulls sonics way above that sticker to prove us once more that top shelf performance can wear a fabulously compact sharp suit that's not even remotely close to the industry's usual suspects. If 25wpc is plenty for you, Enleum AMP-23R is the integrated/headfi amp to get and silly good effort that runs cooler, sells for noticeably less and is audibly more refined than its predecessor that was the best of the low-power kind. The award below merely highlights that." 
The complete review is available on Hifi Knights website.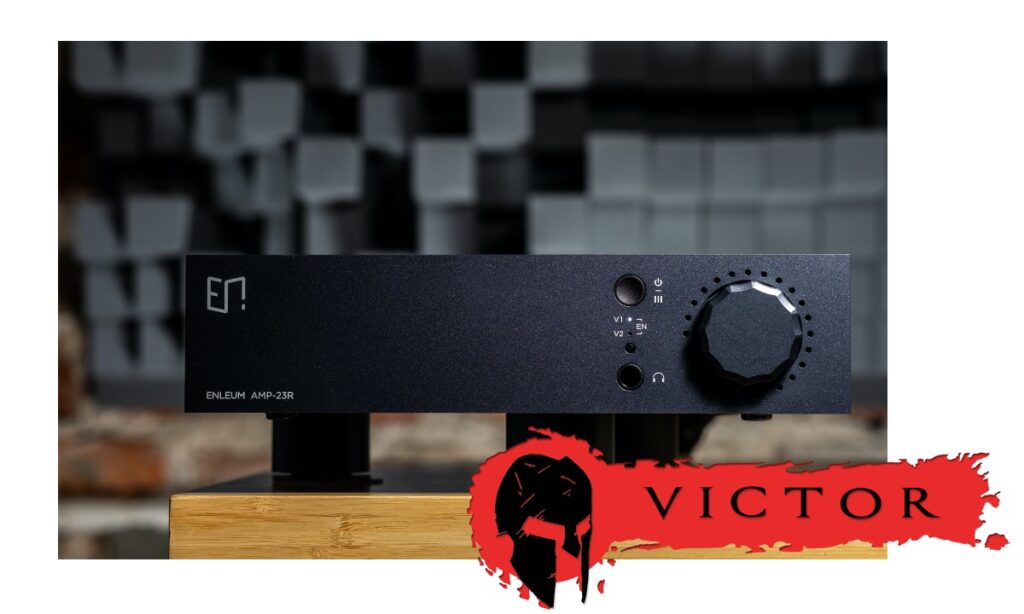 Part Time Audiophile Review AMP-23R
Grover Neville from the hifi revewing website Part Time Audiophile writes a review about the Enleum AMP-23R focusing mainly on its use as a speaker amp. Much has been said about this amplifier's performance as a headphone amp, but it is refreshing to read how it performs on real world loudspeakers. Judging from the PTA review, not bad indeed! Speakers like the Proac D30RS and ATC-SCM20 by Grover Neville not only present quite a challenging real world load, but are also very revealing loudspeakers with real pro pedigree.
"I mentioned at the beginning that the Enleum AMP-23R falls into the category of gear that sounds rather special to me. While it isn't dead neutral, it represents a more linear take on the arresting and engaging sound I value than a tube amp would. For those who have purchased this for the headphone output, you're doing yourself a disservice if you haven't tried it with speakers.
That said, if you are looking at this as a headphone amp with functional speaker outputs, I would argue this is doing Enleum a disservice. The Enleum AMP-23R is tonally one of the finest solid state amplifiers I have heard, and those looking for deep musical involvement would be well served auditioning one. If you don't require gobs of power, you'll have a hard time finding a solid state amplifier under $10K that's anywhere close to as rich and clear sounding AMP-23R."
Read the complete PTA review here.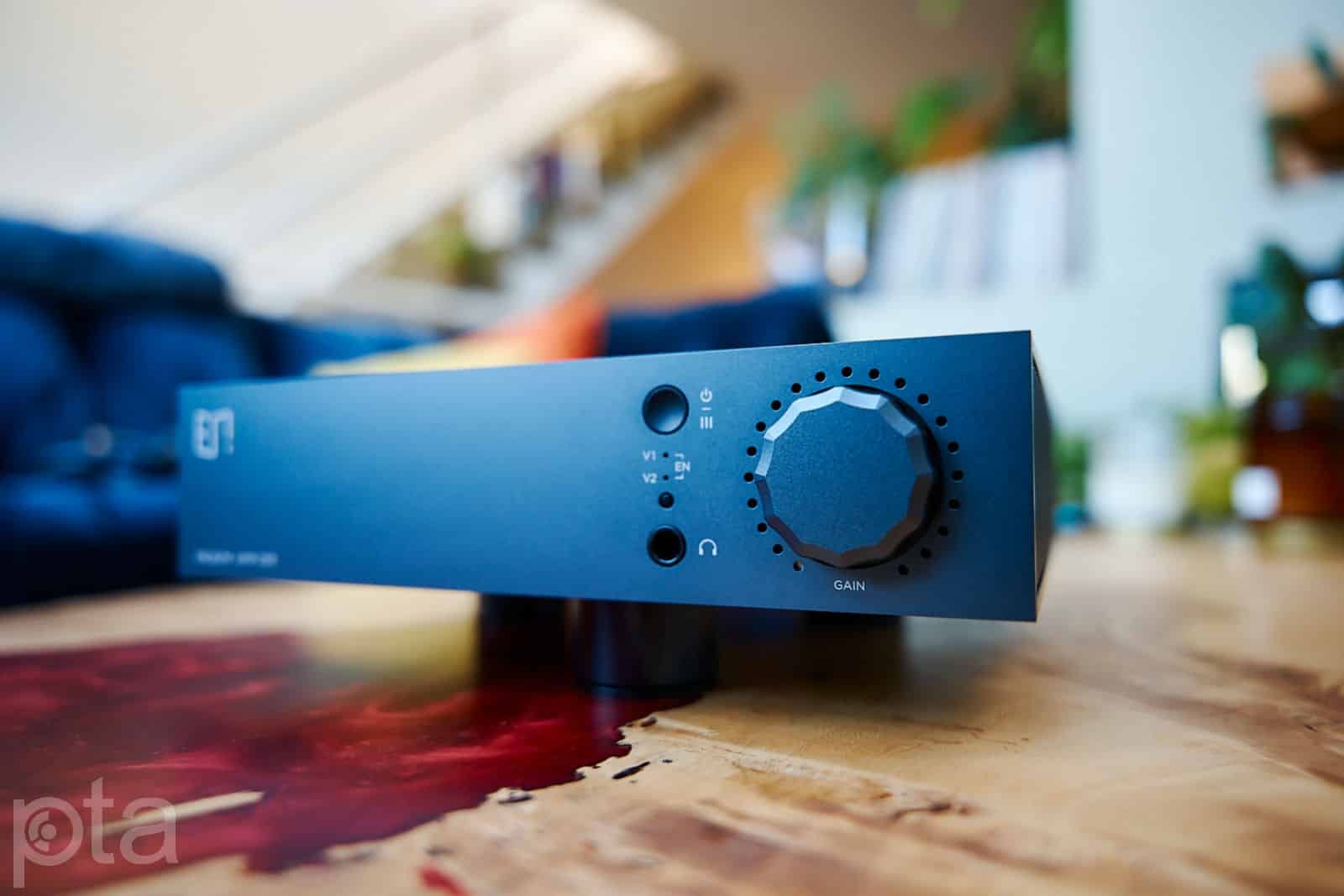 Twittering Machines Review AMP-23R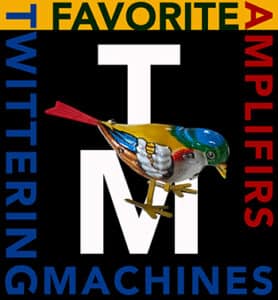 Michael Lavorgna has a great way of describing audio gear and this review is again very nice to read. It details all the Enleum AMP-23R has to give. Michael has a great system in his facilities he lovingly calls "the barn". He tried the Enleum AMP-23R with his resident DeVore Fidelity O/96 speakers. He praises the tonal and harmonic rightness of the amplifier, its sweetness and its 'inner light', which tube amplifiers always do well. Also, he mentions the musicality of the amplifier, giving him a direct feed into the music and all its physicality and spatiality.The AMP-23R is given the Twittering Machines Favorite Amplifiers award.
Below his conclusion:
"Some things just sing from the very first time you hear them. The Enleum AMP-23R proved to be one such piece of hifi kit, sending beautifully crafted and lovingly resolved music into the Barn from track 1, feeling as good as a cool Spring breeze scented with wildflower perfume gently turning our sheer bedroom curtains into dancing ghosts.
Spending time with the Enleum AMP-23R proved to be all enjoyment all the time as it presented all of the music I sent its way with disarming intimacy and beauty. The only negative that bubbled to the surface as the review period was coming to an end was a wish for even more time with the AMP-23R to explore the endless stream of wonder that music has to offer."
Read the complete Twittering Machines review here.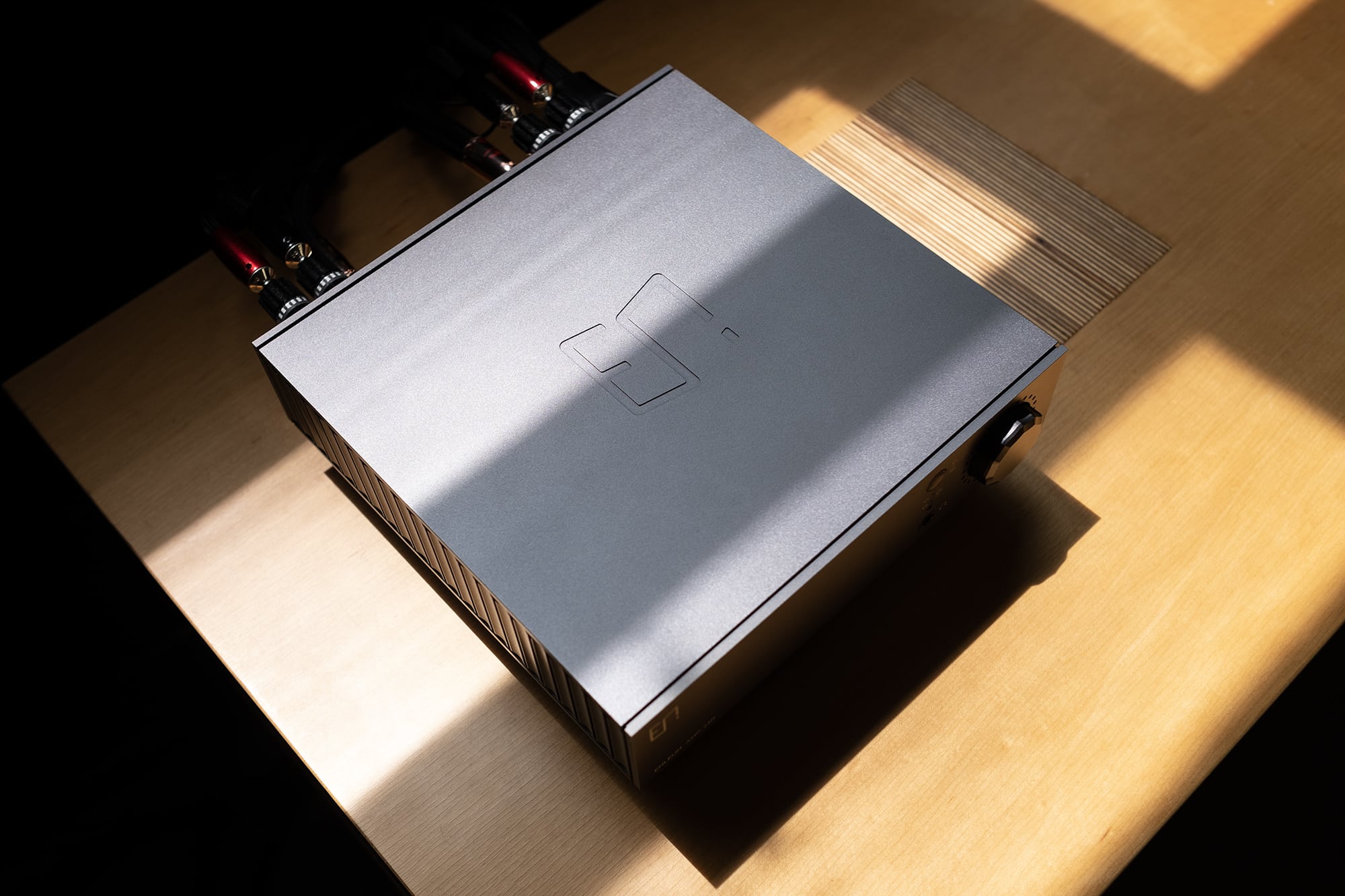 Steve Huff reviews the Enleum AMP-23R
Steve is both a photographer and a hifi reviewer with long experience in the field and has  compared the Enleum AMP-23R with amplifiers costing up to $25.000 that don't sound as good in some aspects as the little Enleum amplifier. In his own words "With the AMP 23-R all parts are of high quality inside and out and Enleum calls this a "reference" amplifier. After some time with it in my system I can agree as this actually bested my reference front end with my speakers. Oh, and for 1/4 the cost and 1/8the the size. "  No need to say the reviewer bought this amplifier as his new reference with his Fleetwood Deville speakers.
Here is a small quote from the review showing the sheer musicality of this amplifier:
"[…] Debby joined me one night so she could hear this little amp I was raving about. She has heard almost evert version of this system. I played a basic non audiophile track from Billy Joel. That track was "Vienna". Not a sad song, or sappy song but a good under rated song. As the song was nearing the end I hear sniffles. I look over and she is crying! She then says "And I do not even like Billy Joel"! She then went on to say that it was "THAT LITTLE AMP" that made me cry.
She said the system never sounded like this, and it was very emotional for her. When I asked her to describe the sound she said it was "Ethereal, Beautiful, So Real". She said it touched her heart and got to her emotions. She said she could hear what I described. The layers, the imaging, detail and the 3 dimensional performance.
Wow. Think about that. Usually our significant others never "get it" but she does, and she fully got it after this little AMP23R was in the system. […]"
This rave review really is a must read! Click for complete story.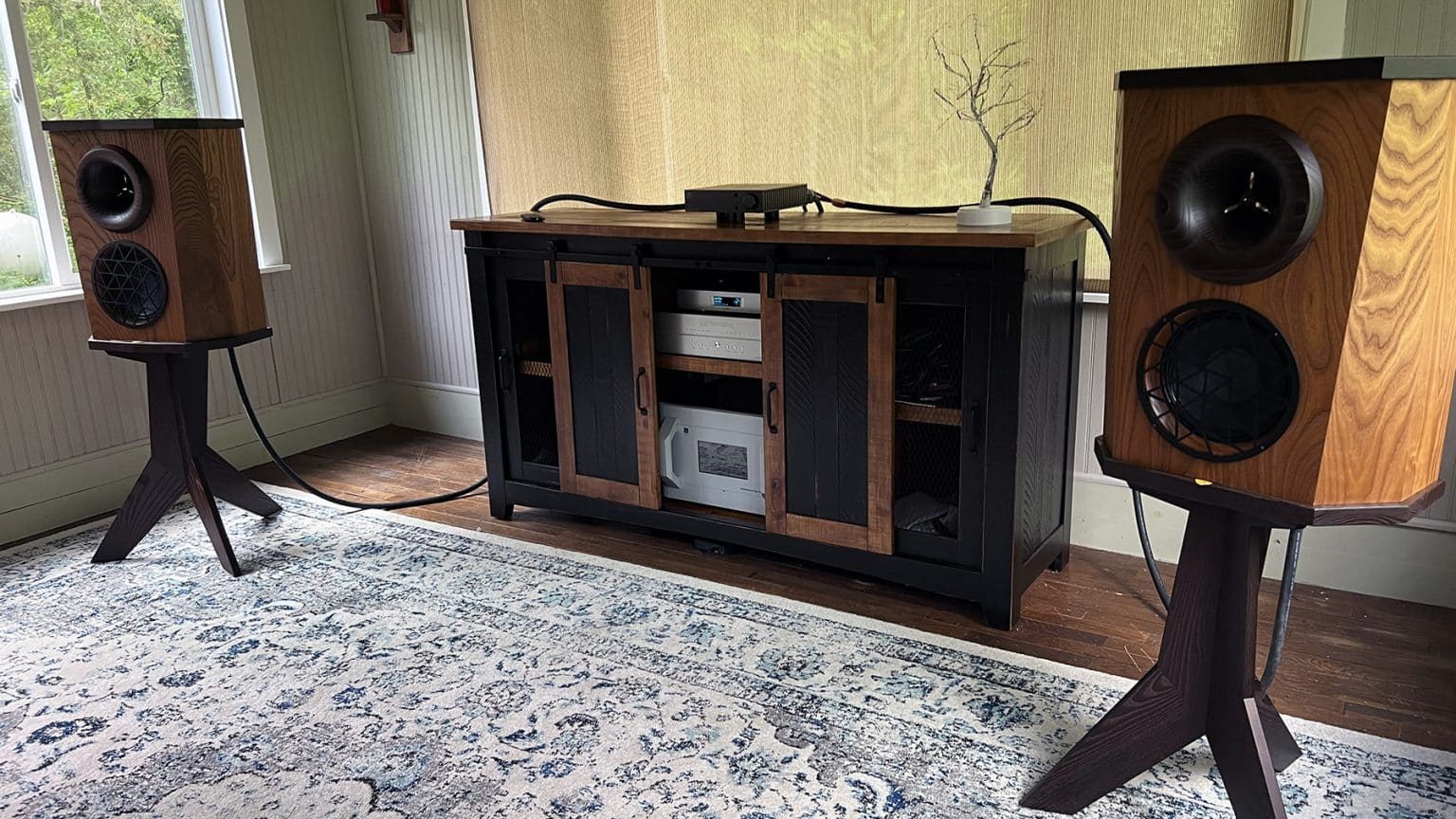 Video review Enleum AMP-23R Darko Audio
John Darko is known for his reviews on Youtube and the publications that he made for 6Moons.com, Stereophile, Tone audio and Audiostream. Darko.Audio explains in a clear matter the technology behind Enleum in this video and pairs this amplifier with Wilson Audio Tune Tot, the new Zu Audio Soul 6 and also Klipsch Forte IV. Comparisons are made with Hegel 390, Naim Uniti Atom and NAD M10.  In the last part of this video John reviews the headphone section of the AMP-23R and test the amp mainly with the Rosson RAD-O in comparison to dedicated headphone amps such as the Schiit Jotunheim 2. Lots of interesting music in this video next to all the headfi and hifi equipment. A video that is worth viewing: Darko.Audio reviews Enleum AMP-23R.
More reviews…
If you can't read enough about this amplifier, please find below some more very interesting reviews about the Enleum AMP-23R: