Introducing Enleum HPA-23RM
Enleum just announced the launch of a new dedicated headphone amplifier with all the technology from the AMP-23R. The HPA-23RM is the new Reference Mobile headphone amplifier from the brand.
This unique product contains two amplifiers in one package as it holds both voltage and current outputs. The voltage output circuitry is directly inherited from the AMP-23R MOSFET output stage with a simplified version of the JET2 bias circuit. The current output stage is based on the Bakoon HPA-21's bipolar transistor circuit, now even more refined with advanced technologies. This new headphone amplifier has a battery power supply and a new thermal design, so it can be used completely portable to drive your headphones. When in M (mobile) mode, the HPA-23RM is powered by its internal batteries, when in R (Reference) mode it will be powered by external power or via USB-C.
Technology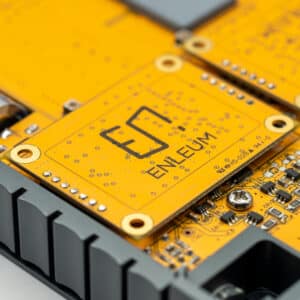 Essence: Like the AMP-23R the design of the headphone amplifier starts with the Essence module. This circuit employs all discrete transistors with zero negative feedback and features an ultra-fast high bandwith frequency repsonse. All these technologies place an important role at the input stage which allows their renowned lossless variable gain, so that the user can enjoy the performance of the amplifier at any level.
Voltage and current outputs: The HPA-23RM features both MOSFET for the voltage output and bipolar transistors for the current output. The voltage output is controlled by the JET2 bias circuit transistors a direct translation from the AMP-23R amplifier.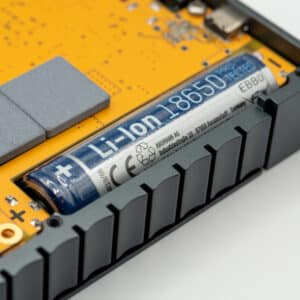 Advanced Battery Circuit: Enleum has a lot of design knowledge about battery based circuits from the Bakoon HPA-21 and BPS-01. For the HPA-23RM Enleum reduced the total number of cells. The 1.2 mhz SMPS power supply and industry leading ultra-low noise regulators is one of the most advanced technologies available.
Solid State Relay Attenuator:  The HPA-23RM employs an advanced solid state relay attenuator circuit which is  now even more efficient and lower noise switching to accommodate the mobile usage. The same gain adjustment method and software that is used in the AMP-23R is carried over to the headphone amplifier and can be used for a wide range of headphones and IEM's.
Specifications: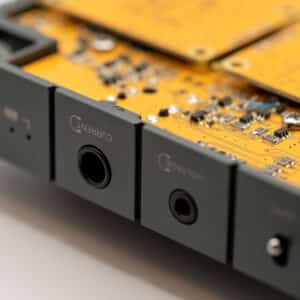 Power: 1 Watt in Reference mode, 500 mWatts in Mobile mode
Input: RCA and 3.5mm mini-jack
Output: 6.35mm (current) and 3.5mm mini-jack (voltage)
Operation time battery: up to 5 hours in mobile mode
Dimensions: 116 mm x 164,5mm x 22mm (w x d x h)
Weight: 730 gram
Red Dot Design Award 2022
The HPA-23RM of course continues the new Enleum family design with its organic waveform heatsinks, the faceted volume dial and minimalistic, clean design, that is truly unique for Enleum. More over they are proud to share that it has already been awarded in the Red Dot Design Award for 2022.

Pricing & Dealers
Price information to be announced