HiFiMAN Shangri-La Jr Electrostatic Headphones
The HIFIMAN Shangri-La Jr Electrostatic Over-Ear Headphones are open-back headphones designed to deliver detailed reproduction of dynamics and frequencies. Features a nano-tech driver less than 0.001mm, with near zero distortion and a super fast response. Nano-particle coated diaphragm providing an extreme high-frequency response. from 7 Hz to 120 kHz. Acoustically transparent mesh grating and nanometer-thick dust covers protect the diaphragms without compromising sonic integrity.
The combination of lightweight aluminum alloy construction, padded earcups, and a hybrid headband design ensures comfortable wearing even for extended periods of time. The Shangri-La Jr headphones weigh in at 374 grams. This headphone comes with a 2m cable terminated with a 5-pin headphone connector, which allows direct hookup to a compatible electrostatic headphone amplifier. The bias voltage of these headphones is 550V-650V, making it compatible with various electrostatic headphone amplifiers such as STAX and Viva Audio.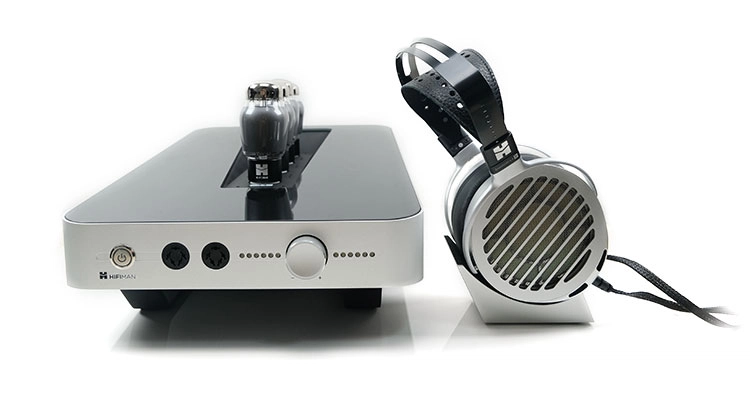 Headfonics Review
Marcus from Headfonics published a review of these incredible electrostatic headphones, combining them with the Shangri-La Jr headphone amplifier, but also with a Stax SRM-D10 and SRM-007 MK2. Kicking of this review with a 9.4 (out of 10) editorial score and a dream conclusion:
"With the right setup, the HIFIMAN Shangri-La Jr delivers outstanding electrostatic audio quality. Certainly, it offers a viable choice at the top of the audiophile dining table with its articulate, clear yet smooth-sounding performance" 
Next to the pairing with various amplifiers, the interesting part of this review is the comparison with other electrostatic headphones, such as the amazing Dan Clark Audio Voce, HiFiMAN Jade II and Stax SR-007 MKII. The complete Headfonics review is available on-line
Pricing & Dealers
HiFiMAN Shangri-la Jr headphone MSRP €4473 incl. VAT