Dan Clark Audio ÆON 2 Noire
Dan Clark Audio introduced the Noire closed-back headphone beginning of this year and it has been receiving great reviews across the border. The Noire was added to the ÆON 2 line-up with some additional changes. Aside from the change in colour, the Noire comes with perforated pads, this gently boosts treble and bass, in close accordance with the Harman target curve.  A wider soundstage with a natural timbre and colour are among the positive aspects of this change.
Hifi.nl Review ÆON 2 Noire
Hifi.nl awarded the ÆON 2 Noire with a glorious 5-star Award, so we could not be more proud. Reviewer Quintijn did a wonderful job describing all the positive aspects in this review. Giving special attention to the low weight of the ÆON 2 Noire and its tuning. Truly a headphone without compromises.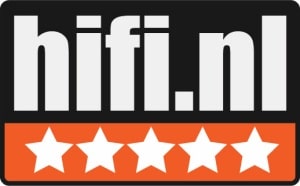 "Listening to the song "Remember The Rain" – Kadhja Bonet. Bonet's voice has a soft and almost magical tone, it almost sounds like golden, very liquid honey. The song clearly shows the influence of older music. combination of the voice with the elements in the music gives a wonderful experience, a golden combination with the AEON 2 Noire. Despite the fact that I have listened to the song many times, I still discover these little new things. The almost magical effect when Kadhja Bonet starts to sing is beautifully portrayed, we are surrounded by the music. The experience resembles a good setup of your speakers, where you are completely absorbed by the music. Only with the AEON 2 Noire it is all just a bit more intimate, as a private concert" 
The ÆON 2 Noire review by Hifi.nl is in Dutch, but an English version (translation by Google) is always available.
PRICING/ DEALERS
Dan Clark Audio Aeon 2 Noire MSRP €999 incl. VAT (standard Dummer cable)